Tonight is 'the beginning of the end' for ABC's LOST. The brainchild of JJ Abrams and Damon Lindelof kicks off its final season at 8 p.m. eastern with a one-hour recap show followed by the two-hour season six premiere. Similar to last year's model, I will cover any new information, tidbits, ...
Microsoft was set to promote the launch of Windows 7 through a sponsored half-hour comedy show featuring Seth McFarlane and Family Guy co-star Alex Borstein (Lois Griffin). But, after viewing a recording of the show, has decided to drop out because of edgy content.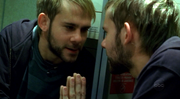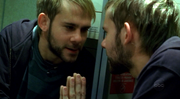 Having spent most of the first part on Jack, Charlie and Kate, this episode focuses on introducing the other main characters in the series. We meet half-siblings, Boone and Shannon, a married Korean couple, Jin and Sun, and Michael, a black father traveling with his son Walt...
The series premiere of Lost aired on September 22, 2004, the same date that Flight 815 - non-stop from Australia to Los Angeles - crashed on a deserted Island somewhere in the Pacific.
Rumors spread quickly over the past three days when Kirk Acevedo (Charlie Francis) announced on his facebook page that he had been fired from the Fringe series.
As we head to the Season 5 Finale of Lost, there are a few questions that are expected to be answered by the time we're hit with a huge cliffhanger that'll make us dread the 8 month wait till the final season of Lost.
It's been said many times before and fans of Lost aren't afraid to repeat the words: "This is the best villain on television." In the case of Lost, that villain is Benjamin Linus. Ever since we were introduced to the deadly, sprite character in Season 2 - then named Henry Gale, he of the balloon that crash landed on the Island - we have been an audience for his several attempts to manipulate the Losties and anyone else that gets in his way.
After spending some time away from the familiar formula that became a staple of the series, Lost returned to it's roots with character centric flashbacks. This time we learned how Sayid ended up in the Dominican Republic, what drove him back to the States, and why he was directed on ...